There is no shortage of restaurants within a short drive of the property - offering different approaches to the dining experience from a simple 3 course lunch for 10 Euros to fine cuisine at 35+ Euros.
One of the nearest is "Le Prieuré" at Madiran which re-opened this year (2018) and offers 'high end' innovative menus with individual attention (code for tad pricey!)
Recommended.
www.leprieure-madiran.com
Also in Madiran is "L'Estanget" - a good lunch spot on "formule" basis.
Even nearer to Hères is "Le Palombe Gourmande" at Lascazères - a French/Australian enterprise since Spring 2018 offering a 15 Euros lunch most days and dinner on Friday and Saturdays.
Recommended
Up in the Madiran hills and amongst its local vineyards is 'Le Relais d'Aydie.' Much more rustic in style, a 5 course meal for under 21 Euros is available including a legendary 'omelette aux cèpes.'
Recommended.
The finest fare is to be found at Villecomtal-sur-Arros, 25 minutes away, in 'Le Rive Droite.' Lovely décor and excellent 'cuisine.'
Top of the Range.
www.lerivedroite.com

Also try "L'Hotel de France" in Maubourguet with Portuguese feel (chef/patron from Lisbon).
www.hotel-de-france-maubourguet.fr
"Le Pigeonneau" in Riscle, now Dutch owned, offers good fare and a friendly atmosphere.
For the beer enthusiast, 'Brasserie Lebbe' close to Soublecause, 5 minutes away, is the place to buy the locally produced bottled beer. Goats cheese also available.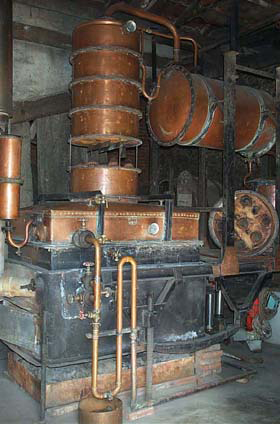 Wines from small to larger producers abound under the appellation 'Madiran.' The reds are based on the 'tannat' grape and have a growing glowing 'health' benefit (in moderation!) and the whites - dry or sweet - labelled 'Pacherenc du Vic-Bilh' are equally desirable. 'Chateua Barréjat', 'Clos Fardet', 'Domaine Capmartin', 'Vignobles Laplace' (at Aydie) and 'Chateau Lafitte-Teston' are typical. For the fruity Cotes de Gascogne whites, go to the Plaimont Cave at Plaisance.
It should not escape your attention that Armagnac is a feature of southern Gascony. The oldest working alembic (illustrated) is at the 'Domaine de LAGAJAN-PONTOUAT' near Eauze. Just outside Eauze is the 'Chateau Tariquet' for excellent white wines and for lunch in the town 'La Vie en Rose' is recommeded.